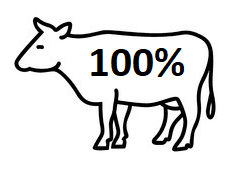 To fill your freezer with all of your favorite cuts of beef for the very best value, this is the way to go. With the purchase of a whole beef, you can create your own custom order with over 500 pounds of whichever cuts of beef are most preferred for your family. It doesn't get more "farm-to-table" than this!

SO HOW DOES IT WORK?

Once you submit your deposit and process your order for your Premium Reserve Whole, Half or Quarter beef, we will give you a call to confirm your order and send you an email with information about the steer you are buying.

Then:

STEP 1: Beef goes to Jerome Country Market (https://www.jeromecountrymarketllc.com) and will be registered under your name. Your beef carefully ages for approximately 10-14 days.

STEP 2: Jerome Country Market will contact you for your cutting order.
OR
You can submit your cutting order directly through the butcher's website:            https://www.jeromecountrymarketllc.com/ 

STEP 3. Jerome Country Market will confirm the hanging weight of your beef and will call you when your meat is ready to be picked up!


*50% down payment is required upon ordering, then the remainder of the balance is due prior to pick-up from Jerome Country Market. PLEASE NOTE: THE $1.00 ITEM COST ASSOCIATED WITH THIS ITEM WILL GO TOWARD YOUR DOWN PAYMENT AND ONLY SERVES TO RESERVE YOUR SHARE!