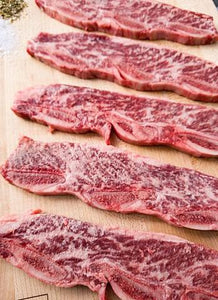 Although not the most popular cut of beef in the US, Short Ribs are loved in Argentina and Uruguay. Short ribs or "Asado de Tira" are extremely tender and juicy cuts of beef. 
The average short rib you find in the supermarket cannot compare to our short ribs which are cut thinner than usual at 3/8'' slices instead of the usual 1/2''. They TRULY are something to behold.
Flanken style short ribs is cut across the bones so that each slice contains a few pieces of bone. Makes it great for grilling since you can put them on the side of the bone and let them cook.... they are full of flavor and are not easily found.
To get the best flavor, cook them quickly over extremely high heat, without letting it overcook. 
FLANKEN SHORT RIBS + CONFINEMENT ODOR
Flanken Short Ribs on a vacuum sealed bag will smell a little bit stronger than any other steak that is vacuum sealed. That is because they are cut very thinly, there is a lot of bone and they are vacuum sealed. So you will have the smell of the bone and bone dust as well as the smell of confinement from the vacuum seal. 
Open them up and let them rest for 10 minutes and come to room temperature. Most of the smell should dissipate and they get redder. Confinement odor is a thing with EVERY vacuum sealed steak.. but it is stronger with short ribs because of the bone and bone dust.